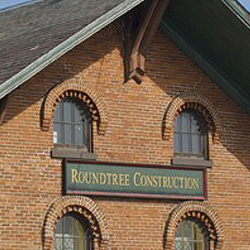 About »
Founded in 1973, Roundtree Construction is a Vermont-based general contracting firm, responsible for building many of the area's finest homes. Roundtree Construction specializes in architect-designed houses, renovations and additions, as well as historic restorations.
Whether you are looking to build a new home or renovate an older one the common thread to our project is &hellips; quality. The emphasis on quality is where it begins and ends for us. Quality materials, thoughtful planning, attention to detail, and craftsmanship are attributes brought to every Roundtree Construction project. If you have an architect you are working with we welcome that. If you need recommendations on an architect we can assist with that as well and if you need a builder that offers design & drafting services that is somethin we do as well.
Roundtree Construction works with industry-leading architects, both local and national, to bring unmatched craftsmanship, unrivaled attention to detail, and unparalleled artistry to fashion and fabricate award-winning structures.
As a member of the U.S. Green Building Council, Roundtree Construction is committed to the green­building movement by constructing homes that embody those principles, and working in correlation with Efficiency Vermont, Vermont Energy Investment Corporation, LEED for Homes, and Vermont Energy Star Homes.
Roundtree Construction was founded by Dan Morris who since retired in 2020 after 47 years of award- winning work. He nurtured his love of building during his architectural studies at Princeton. Dan was a valued leader, playing an integral role managing projects and the company.
After Dan's retirement, longtime business partner Ric Santa Maria became owner and president of Roundtree Construction. Soon after graduating from Southern Conn State University, Ric Santa Maria joined Roundtree Construction in 1986 as a carpenter, before quickly moving up the managerial ladder. Ric works closely with clients, industry professionals, and crews to maximize productivity and efficiency, no matter the size and scope of the project. Ric's strengths include creative problem solving, managing timelines and project schedules, and utilizing the latest innovative design and construction practices. Having formed positive relationships, clients trust Ric to help with their continued needs long after their homes are completed.
Scott Reiss has three decades of experience in the building industry, with a work background in home renovating, commercial & education facility planning, building materials and custom home building he brings a solid understanding of project costing, value engineering and procurement services.
Stacey Gebo is the office manager with more than 40 years' experience in accounting and office administration.
With more than 30 years in the industry, John Maynard is the manager for the Roundtree Construction Shop and is responsible for drafting, estimating, and fabricating cabinets, millwork, and furniture.
Roundtree Construction includes a field staff of experienced expert foremen and carpenters.